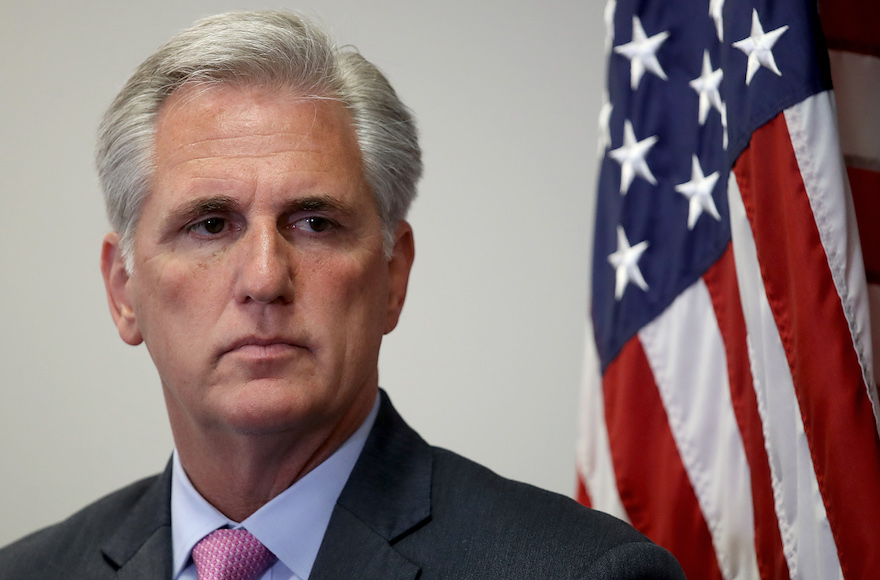 The Republican leader warned that the wealthy donors are trying to "buy" the midterm election.
House Majority Leader Rep. Kevin McCarthy (R-Calif.) decided to delete a tweet attacking three Jewish Democrats for "buying" the midterm elections two days after liberal billionaire philanthropist George Soros, one of his targets, was sent a pipe bomb.
The tweet — which also named former New York mayor Michael Bloomberg and California businessman and Democratic donor Tom Steyer— was taken down three days before a gunman killed 11 people Saturday in an anti-Semitic attack at The Tree of Life, a Pittsburgh synagogue.
McCarthy could not immediately be reached by Huffpost for comment about why he deleted the tweet. But his message danced dangerously close to a well-trod anti-Semitic attack portraying Jews as comprising a wealthy international cabal secretly controlling the world.
McCarthy posted a new tweet after the Pittsburgh synagogue attack, stating that the "heinous attacks on Tree of Life synagogue perpetrated by anti-Semitism and hate will not shake our love for each other."
Soros' son, Alexander Soros, blamed "hate" for the series of pipe bombs sent to Democratic political figures and other Trump targets, including his father.
Alexander Soros wrote in a New York Times op ed Wednesday that his father's philanthropic efforts, which seek to "support those who promote societies where everyone has a voice," have been a target of vicious attacks, many "dripping with the poison of anti-Semitism."
It became much worse since the Trump campaign, Soros added, which was endorsed by "white supremacist and anti-Semite David Duke," former grand wizard of the KKK, he added. That's when extremism began to slip into the mainstream in America, Soros noted.
"A genie was let out of the bottle, which may take generations to put back in, " Soros warned.